When You're Ready For Your New Pool - Get On Board!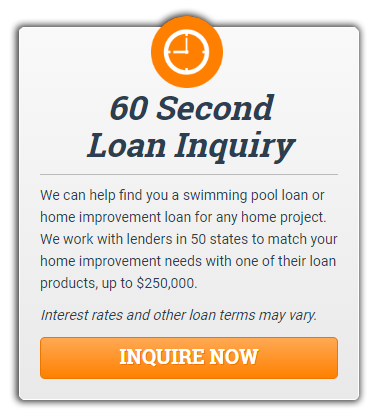 Your Swimming Pool Loan Is Waiting
A swimming pool does more than add value to your house, it also provides your family with a place to relax and exercise. Getting a swimming pool loan doesn't have to be a complicated, time consuming process. With more than 55 years of experience assisting homeowners with obtaining home improvement financing, the team at HFS financial is the perfect partner.
Swimming Pool and Spa Financing
Loans Up to $250,000
Terms Up to 15 Years Available
60 Second Loan Inquiry
If You Dream It, HFS Can Help You Finance It
If you have any questions, they will provide the answers. All you have to do is visit the HFS website or call 1-800-254-9560.

When it comes to buying a new pool, we don't believe that finding the right financing should be the hardest part of the process. That's why we've partnered with LightStream, an online consumer lender that offers a fast, hassle-free way for borrowers with good to excellent credit to finance their Viking Pool purchase.
LightStream's loan product is aptly named the AnythingLoan. It gives borrowers the flexibility to finance or refinance just about anything, including any new or remodeled pool.
Here are just a few of the many reasons why we recommend LightStream to our customers:
Fixed rates starting as low as 4.99%* APR with AutoPay
Flexible loan amounts up to $100,000
Unsecured loan; no collateral requirements, no need to leverage your home equity
No fees, down payments or prepayment penalties
Funds in your account as soon as today*

* The APR listed is for an unsecured loan between $10,000 and $24,999 with a term between 24 and 36 months, for the purpose of Home Improvement/Pool/Solar. Your APR may differ based on loan purpose, amount, term, and your credit profile. Rate is quoted with AutoPay repayment option. Rates under the Invoicing option are 0.50% higher. Subject to credit approval. Conditions and limitations apply. Advertised rates and terms are subject to change without notice. Payment Example: Monthly payments for a $10,000 loan at 4.99% APR with a term of 3 years would result in 36 monthly payments of $299.66. *You can fund your loan today if today is a banking business day, your application is approved, and you complete the following steps by 2:30 p.m. Eastern time: (1) review and electronically sign your loan agreement; (2) provide us with your funding preferences and relevant banking information; and (3) complete the final verification process.