Serving Sonoma County, CA and Surrounding Areas!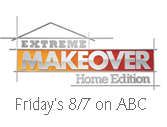 Who does a production company for an Emmy nominated show call when they need a top-quality swimming pool for their next episode?
That's right, VIKING POOLS! With the growing success of ABC's Extreme Makeover Home Edition, which airs on Sunday nights, it's no surprise that the show was recently nominated for an Emmy. The show is based around individuals and businesses coming together to help a deserving family in an emotionally charged 7-day transformation.
When the show's producers went on the hunt for a great swimming pool that could be installed in 2 days, they called for a Viking pool.
Viking Pools continues to lead the way through the 21st Century as the nations largest fiberglass pool manufacturer. With manufacturing facilities in California, Texas, Florida, and West Virginia, and dealers in all quadrants of the U.S., Viking Pools continues to raise the bar of excellence and service in the pool industry. For additional information about Viking Pools or their participation in ABC's Extreme Makeover Home Edition, simply visit the Viking Pools website or call us today!.


Extreme Makeover: Home Edition has been picked up by TV Land and CMT for re-runs. Stay tuned to see your favorite episodes.
Extreme Makeover Project